Your wedding day is one of the most important days of your life. You will spend hours choosing the perfect location for your ceremony and reception; months shopping for the perfect dress and rings and painstakingly plan the guest list and menu; so why would you leave your entertainment to chance?
We will provide you with a professionally planned entertainment package tailored to your individual needs. We are able to offer background music, disco, live entertainment from our vocalists and even additional entertainment to occupy your younger, and younger at heart guests.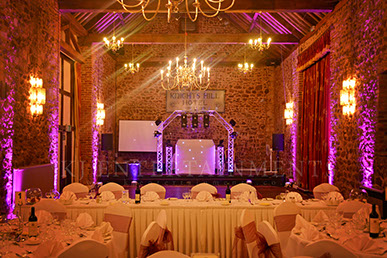 Every wedding function is different in terms of location, duration, number of guests and of course, musical taste. We understand every wedding should be unique and treat each one as such. After all, it is YOUR wedding and you know which features will work well for you and your guests.
We will work closely with you to plan and create the perfect package for your special day. You can "pick and mix" the features you would like to include for your wedding entertainment. Our aim is to make your wedding day celebrations a magical and unique experience. We will listen carefully to your particular requirements to ensure you get the night of your dreams and that your guests have a fun and unforgettable time. We will also liaise with your other chosen wedding professionals and venue co-ordinators to make sure we all work together with one thought in mind...you, and your guests.
Contact us for further information on how we can help you create the night of your dreams and to receive a copy of our Wedding Brochure.