Want something a little different? Then why not add a touch of sparkle to your event with Glitter Tattoos.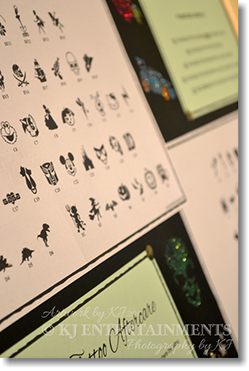 Whether you are planning a birthday party, a girls' night in, a hen night or even a wedding reception, the addition of glitter can make you and your friends feel that extra little bit special. After all, everyone loves a bit of bling!
We have many designs to choose from and if required, given enough notice, are able to source bespoke designs just for you, e.g. Club Logo, Team Badge, etc. as long as there are no copyright infringements in doing so.
Glitter Tattoos can last up to 7 days and will wear away naturally. They can however be removed using baby oil and cotton wool if you do not want them to last for more than a day or two.
All products used are hypo-allergenic and comply with EU regulations for cosmetic use. However, Glitter Tattoos are not suitable for: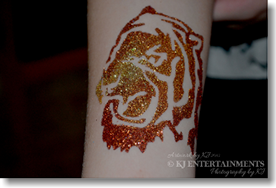 ♦ Children under 3 years of age
♦ Anyone with a latex or glue allergy
♦ Anyone with skin sensitivities
♦ Use on the face or neck
Glitter Tattoos are available as a stand-alone booking or as part of any of our other services.