So...why choose a Krazy Kidz Party from us? In a nutshell...because they are "simply the best" and we've got the award nominations to prove it.
Our Krazy Kidz Parties combine all the fun of a traditional children's birthday party with some very special added extras and children of all ages will love them. We tailor each party to suit the age range of the party guests and can include a mix of music, games, face painting, glitter tattoos and balloon modelling depending on which package you have chosen. The parties are a standard two hours in duration although longer party times are available if requested. We will only play age appropriate music and songs with any explicit language will not be played. This is a strict term of any party booked with us for anyone under the age of 18. Chart music is of course very much available to children of all ages but we still use our discretion when taking requests.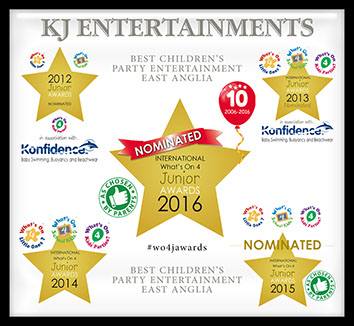 To help take the stress out of organising your party, and hopefully to save you some money too, we can provide you with downloadable party invitations to print at home. These can be left blank for you to fill in, or personalised with all the party details.
Still not convinced? Then head over to our Facebook Page and check out the many reviews from very happy parents! These can be found in several of the Photo Albums and by selecting Recent Posts By Others.
Contact us for further information on just how we can make your child's party one to remember!