Are you looking for something a little bit different for your event? Well look no further!
Whether it be a children's party, wedding reception, corporate event, street party or a special celebration at your favourite restaurant, we can offer you Balloon Modelling of the highest standard. Our "twister" is available as a walkabout entertainer or can set up in a specific place at your venue. Visit our Gallery to take a look at just some of our amazing balloon creations!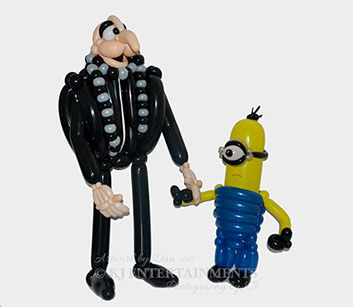 We use only Qualatex® balloons purchased from our own preferred, reputable suppliers and adhere strictly to their guidelines for use. Qualatex® latex balloons are made from 100% natural latex - not plastic. Qualatex® latex balloons are biodegradable and decompose as fast as an oak tree leaf. Latex balloons are earth-friendly and no harm is done to the rubber trees when harvesting latex.
Balloons were actually invented in 1824, the same year as the electromagnet, and did you know that, according to sources, the art of balloon modelling, or twisting as it is more widely known, dates back to around 1939 with many clowns offering balloon animals as part of their act. Oh my...how things have changed nowadays! Another balloon fact is that a bursting balloon actually creates a small sonic boom so if the sound of a popping balloon startles you, now you know why!
Dan is a member of The Balloon Artistes Guild and regularly attends "Care & Share Days" to learn from UK & International "Twisters" and often is the one doing the teaching himself.